C.B. Hanif's Bio

Writer, Editor, Blogger, Multimedia Journalist and Consultant
C.B. Hanif is a freelance writer/editor, blogger, multimedia journalist and consultant who for 22 years served readers of The Palm Beach Post newspaper. The numerous hats he wore for The Post included member of the editorial board, editorial writer and columnist, and editor of the letters page.
Hanif also became the world's longest-serving news ombudsman. As such he wrote the popular weekly Listening Post column, giving voice to readers' concerns about the accuracy and fairness of the paper's news and feature articles. He often quipped that "It can be the best job at the newspaper, and the worst job at the newspaper — all in the same day."
Hanif has provided reporting, analysis and commentary on issues and individuals of national and international import. He has filed columns from London, Montreal, Istanbul and Sao Paulo. He first blogged from the Newspaper Association of America's new media sessions in Las Vegas, and later from the international Organization of News Ombudsmen's sessions at Harvard.
C.B. also has chronicled Palm Beach County and Florida — from the editorial board room to the school board chambers to the university Board of Governors' sessions; from Belle Glade's Mucksteppers Reunion to the Riviera Beach Jazz Festival to the Harry T. & Harriett V. Moore memorial.
Early Years
Native of Baltimore, Md., C.B. attended:
Booker T. Washington Junior High School
Baltimore Polytechnic Institute
Carnegie-Mellon University
Before joining The Post's Opinion section staff, he was news editor for The Atlanta Voice newspaper, an African-American affairs weekly.
Prior to that he was an editorial assistant for Scripta-Technica in Silver Spring, MD, publisher of the English translation of Russian and Japanese technical journals.
He also has edited for book and magazine publishers such as the Williams & Wilkins Company, the Johns Hopkins University Press and the University Park Press.
Member Of Professional Journalism Organizations 
Current or past member of:
International Organization of News Ombudsmen (acronym, ONO!) — Member and Former Director
National Association of Black Journalists (NABJ)
Trotter Group of African-American Columnists
Palm Beach Association of Black Journalists (NABJ's Local Affiliate Chapter) — Founding Member and Former Board Member
Florida Press Club
Participation In Professional Activities And Events
C.B. has been a keynote speaker, moderator, and lecturer for myriad organizations.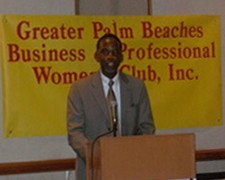 A longtime guest speaker at:
Churches
Mosques
Synagogues & Schools
Professional & Community Groups and for
Myriad Clubs & Organizations
C.B is a recipient of numerous professional and civic honors.
Today
Hanif is a loving father and grandfather who lives with his wife Aneesha in West Palm Beach. When not immersed in the wonders of scripture, nature or jazz, he can be found building bridges across religious, ethic and cultural lines based on our shared human values.
As he told readers in his farewell column in The Post, Hanif expects to continue taking classes and teaching some. He continues editing books, and has a couple of his own in various stages of write.
And he's still speaking and writing, for example about our president, who for some reason he likes to call Barack Hanif Obama.  Don't miss C.B.'s online blogs: HanifOnMedia.com and InterFaith21.com
Interested In Contacting C.B.?
Email Or Call 561-309-5476 Today!